Moira Hopfe-Ostensen, piano & Walter Martella, piano
…welcoming Academy faculty alumni back to Powell River, Dr. Hopfe-Ostensen will perform with Walter Martella, Academy Music Director and jazz performer, in a double piano concert.
Thursday, January 18, 2018 | 7:30 PM | James Hall

Admission $22 - Students 18 & under free with student ticket voucher
Tickets are available:
• at the Academy Box Office – 7280 Kemano Street, Monday – Thursday 9:30 - 4:30
• by phone at 604 485 9633
• and at the door 30 minutes before the concert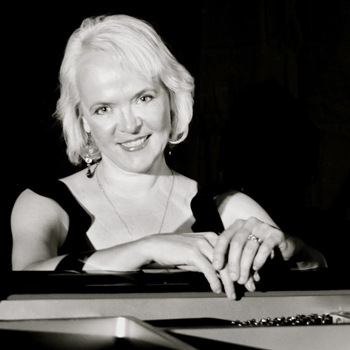 Moira Hopfe-Ostensen, born and raised in Wetaskiwin, Saskatchewan, obtained numberous credentials over the years with her studies at the Universities of Alberta, Western Ontario, Arizona State and British Columbia, the Royal College of Music and the Academy of Music in London, England, the Banff School of Fine Arts and the Johanneson School of Music in Victoria. She has studied under renowned musicians and has presented many concerts of solo and chamber music. In addition, she has performed on CBC radio and television. Moira's students continue to gain national and international recognition.
Dr. Hopfe-Ostensen has been an active clinician and has adjudicated numerous Kiwanis Festivals throughout Canada, and piano performances in the US. She is committed to the pursuit of excellence in piano pedagogy.
Dr. Hopfe-Ostensen has performed in a number of countries including Canada, the U.S., Scotland, France, Austria, Germany, Hungary, England, and Japan. She has performed for and met members of the Royal Family both at the Royal College of Music, and as a guest at a Buckingham Palace Garden Party. Other career highlights include a performance in Hiroshima, Japan, at the Peace Memorial Ceremony which commemorated the 50th anniversary of the atomic bombing, and a performance of Mozart's Piano Concerto, K.466, with the Vancouver Symphony Orchestra. She performed with PIANoMANIA, a four-piano ensemble, in live and nationally broadcast performances for television and radio. The ensemble consistently sold out performances throughout Alberta, including Edmonton's Fringe Festivals, The Best of the Fringe Festival, Mozartmania Festival, and Bravo Alberta (Jack Singer Hall, Calgary). Dr. Hopfe-Ostensen has performed numerous solo and chamber recitals, and received a Professional Distinction Award for Outstanding Achievement in the Arts from the Peace Hills Arts Council, Canada.
Walter Martella, conductor and Music Director of the Powell River Academy of Music, has long been an integral part of Powell River's musical community. He is an accomplished pianist, accordionist and trumpeter, starting lessons at age five, and soon joining the original Boys Choir conducted by Don James. Music remained his focus as he earned a Diploma in Jazz Trumpet from Malaspina College (VIU), a Bachelor of Music Degree from the University of Victoria and attended the Banff School of Fine Arts. 
Conducting became a significant part of Martella's life and career when he returned to Powell River to study at PRAM under Don James. He has participated in the British Columbia Choral Federation's conducting program and has collaborated with world-renowned conductors. He has led noteworthy works like Holst's Rig Veda for choir and harp, the Messiah, Schubert's Mass in G, and Vivaldi's Gloria. He conducts the Academy Chamber Choir, Chor Musica Men's Choir and the Powell River Chorus as well as currently maintaining a full private teaching schedule.

Martella is a strong believer in the power of music as an important part of community. He has been an adjudicator for instrumental and choral festivals throughout British Columbia and is well known as an enthusiastic mentor, making room for his young students in his own public performances. He has recorded five jazz CDs, performed provincially with many well-known musicians in multiple genres and continues to be in demand all along the West Coast as a trumpet soloist and jazz pianist.